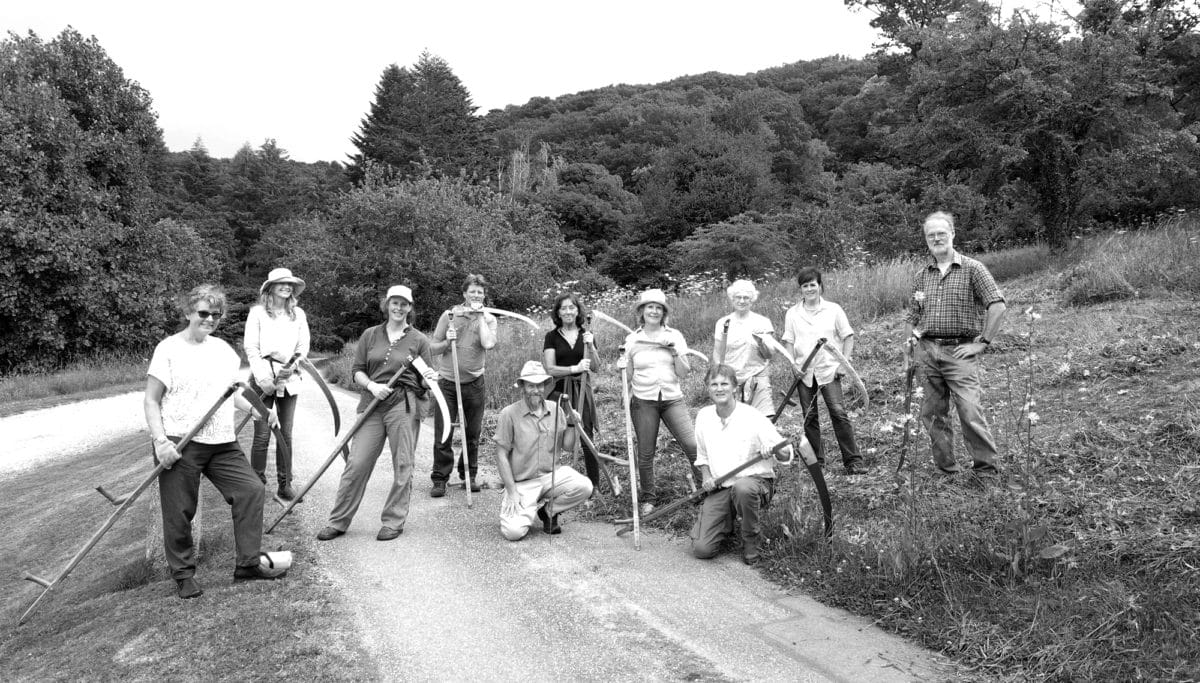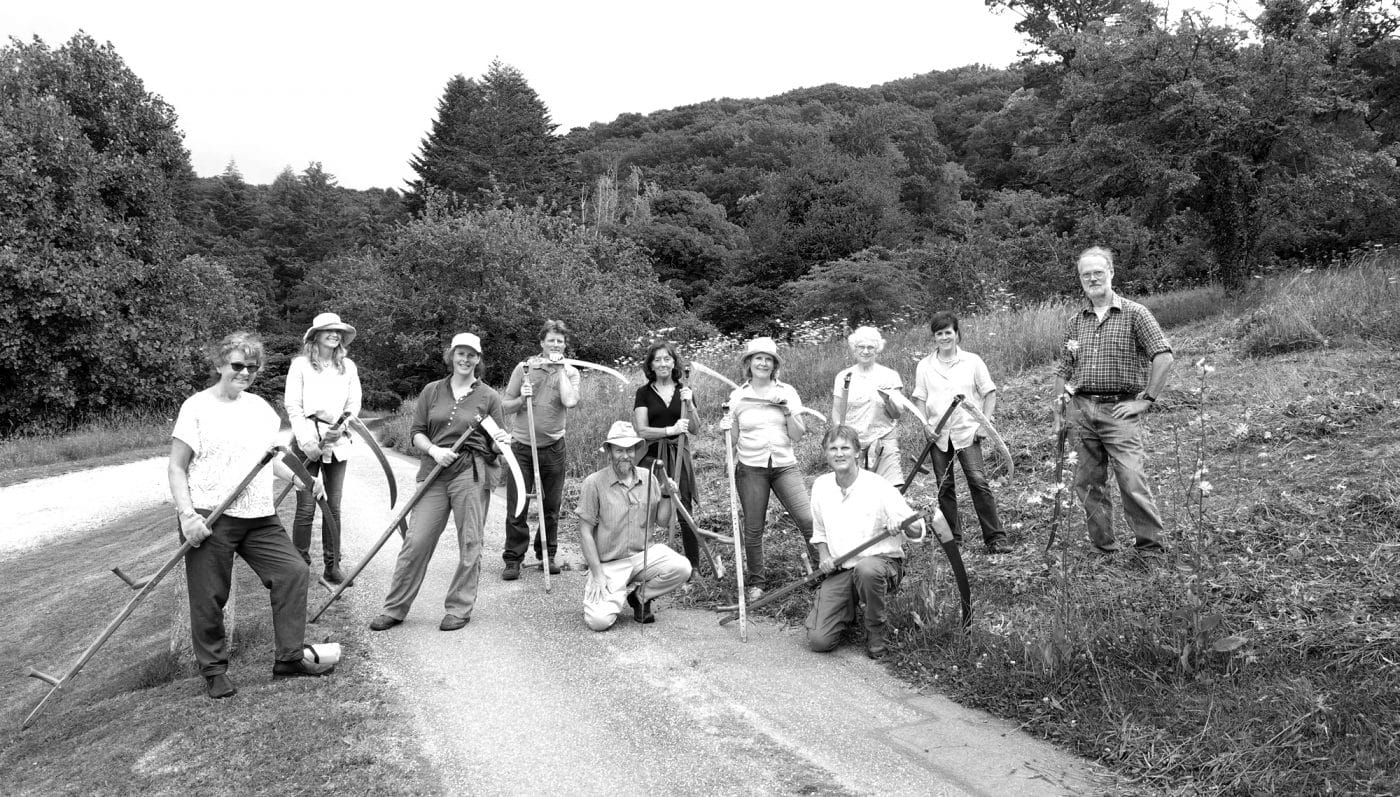 Case Study
Moor Meadows: WordPress for a growing community-led environmental group
"Lumpy Lemon's expertise and guidance have been invaluable. We have no hesitation recommending them if you're looking for professional service with excellent ongoing support."

Donna Cox
Moor Meadows is a fast-growing membership organisation, dedicated to mapping, restoring and expanding Dartmoor's beautiful wildflower meadows. Their core team represent all levels of technical expertise, with an audience often based in areas with poor web access.
Lumpy Lemon built, host and maintain moormeadows.org.uk to be fast, intuitive, simple to update, and extremely reliable. It is now Moor Meadows' key source of growth, serves as an educational resource, and is an inspiration to ecological groups across the UK.
Discovery
A thorough and collaborative discovery phase is an essential part of my process. Taking place before I write a single line of code, it is a pairing of my expertise with the unique knowledge and experience of my clients. Learning from each other is absolutely essential for the success of every project.
Simplicity leads to clarity. I believe it is always worth striving for.
With Moor Meadows, discovery uncovered several key constraints and requirements: structuring large amounts of information; supporting members with widely differing ages and levels of knowledge; designing for poor internet speeds in rural areas; prioritising membership growth.
There were also important organisational considerations: What was the technical know-how of the team? How much staff time would be available to update the site? What training would they need?
With good rapport and a shared understanding now in place, I built a simple structure around the content, focusing on core goals. Clarity, ease of use, accessibility and performance (speed) were all key requirements, and guided us collaboratively towards:
A set of clear calls to action on the homepage.
An intuitive visitor journey throughout the site.
A clear specification for the interactive areas.
Simplification of the membership options.
Roles within the organisation for ongoing administrative tasks.
The result of all of this is a site that is simple to use and performs superbly. Simplicity often belies the thought process that delivers it, and is always worth striving for.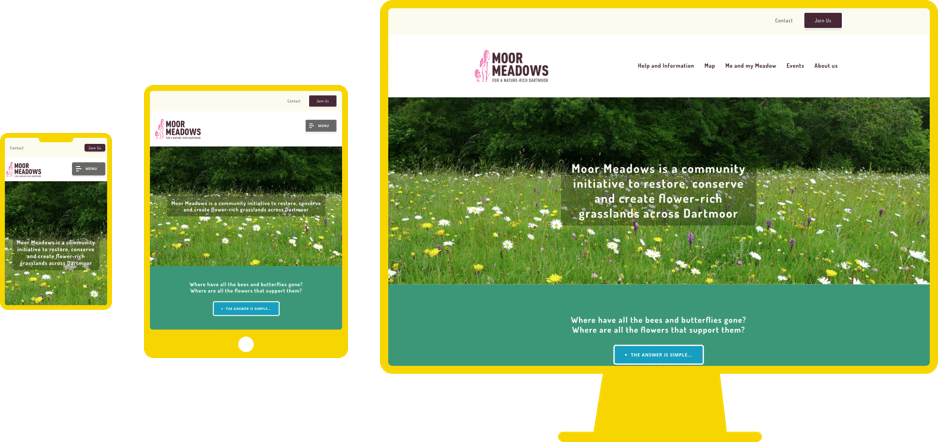 The results
We began seeing impact within days of launch. New member sign-ups and email list subscriptions have increased dramatically. Joining Moor Meadows is now quick and easy, and signing up to the email lists is done through a simple online form – no more manual emails chasing memberships or painful faffing around with Yahoo Groups.
New member sign-ups and email list subscriptions increased dramatically within days of launch
Meadow owners now feel part of a supportive and active network. They can share their stories in the meadow makers' gallery, submit their meadows to the Dartmoor Meadows Map online, and receive expert help and advice through an information exchange.
Future conservation and environmental regeneration is now backed up by solid evidence, gained from submissions to the Meadows Map and the information exchange. This has uncovered the existence of many previously unknown meadows, creating major local impact.
National impact is also being achieved through an easy-to-update, very comprehensive 'Help and Information' section, already being used by groups and individuals far beyond Dartmoor and Devon.


Getting technical
From day one, I built this website to be fast. It scores an impressive 99 out of 100 on Google's Lighthouse performance tests. Even I have to admit to being chuffed with that! How was this achieved?
I host my clients' websites on high performance servers, designed and optimised specifically for WordPress, speed and security.
I really am super nerdy about coding: I develop custom-built themes from scratch with efficiency and performance baked in. This is simply not possible with general purpose, off-the-shelf themes.
I use third party plugins only when absolutely necessary. The ones I use are carefully vetted for quality, features and performance (for example, Gravity Forms and CMB2).
Once it's all up and running, I set up 'Nginx page caching' to eek out every last drop of speed.
Last words
Moor Meadows chose to work with Lumpy Lemon because of my focus, straightforwardness and experience. I've worked with other local not-for-profit and Dartmoor National Park-supported organisations, including the Devon House Martin Project.
This project was delivered on time and within budget. I'm delighted with the results, have a strong ongoing relationship, and Lumpy Lemon is proud to continue supporting Moor Meadows with their important work. And I got to do lots of cool custom development with my favourite software: WordPress!
I'd love to hear about your project ideas, so please get in touch below.